Car Camping Checklist that You Must Check Before Leaving Home!
Camping is the best way to relax after a lot of work in your office and other daily routines. You can plan the camping with your friends, family members, and just yourself as well. There can be many options for camping, including the national parks, private campgrounds, seaside, other states, or even in your own backyard. When you chose a specific place which is specially made for camping purposes, you will get the running water, shared bathrooms, and many other facilities there.
Moreover, many other these type points also include the picnic table, separate place to park your car, and unique points to pitch your tent. Whenever you are going for the first time for camping, it's best to take all types of comfortable items with you. But you also need to be selected in all these items because it can also increase your backpack.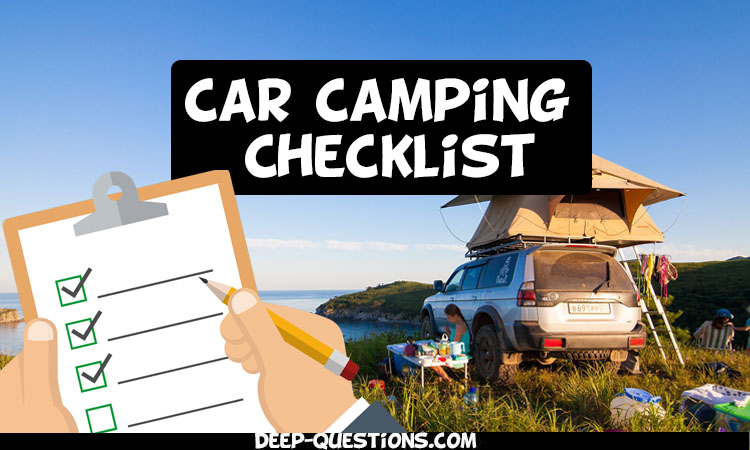 In this article, we are going to list all the necessary items which you need while going for car camping. We are going to list all the best things you needed for your first car camping trip. But when you become an experienced camper, you will know very well about your camping needs according to your habits.
Car Camping items Checklist:-
1. Shelter Items
The shelter is the first essential and necessary item for the car camping. The shelter is essential for sleeping and resting purposes on the car camping trip. This will help you to survive there on a rainy day and at night as well. When you are looking for the shelter needs of your car camping, you need the following items.
Tent
Poles for the Tent
Rain Fly
A ground cloth inside the tent
An extra rope and tarp
These are some essential items for the shelter on the camping site. You can also bring a foldable chair with you to sit inside or around the camp. Moreover, many car-camping tents don't include the rain fly and ground cloth, so try to check before buying a perfect tent for himself. The extra rope and tarp can help you in coking needs.
2. Sleeping Items
Sleeping items are also essential for a relaxed point of view. Because when you relax well on your camping site, you will obviously enjoy more as well. The main sleeping items for your car parking include the following.
These are foldable sleeping pad, cots, or any lightweight mattress.
The Sleeping bag is optional with extra blankets.
Pillows
You can also take just the pillowcases to fill with clothes to save the car space and minimize the weight in your car. There are different sleeping bags available which include all the essential items which are needed for car camping. You can also buy these bags. But these bags have different things depending upon the season. So you can buy a perfect sleeping bag as well, depending upon your time of camping. Whatever you do, make sure ideal sleeping items with you to make your trip enjoyable.
The first woman police belong to which country? Read multiple Choice Trivia 
3. Cooking Items
You need to take all the cooking items with you, which are necessary to make food for you on the camping site. Let's see the different cooking items needed to make the food at a camping site.
A Camp Stove
Fuel, gas, or propane depending upon your camp Stove
A match or lighter to start the fire
A cook set including the pots and pans
Coffee maker
All the eating utensils including the Plates, bowls, cups, and Spoons
A separate garbage bag
Different sizes of bags with zip lock
Aluminum foil and saran wrap
A soap and sponge to clean all eating utensils
Camp sink or any bucket to wash the dishes
Dish towels and handkerchiefs
A roll of paper towel
There are openers, including the can opener, bottle opener, etc.
Knife and cutting board
A water cooler and ice
A cloth to put on the table
Jugs and glasses to drink water
An empty pitcher
These are some essentials items for cooking purposes. Some people bring the duel fuel stove, but it's a little bit tricky. So many people just pick the M.S.R. pocket rocket instead of a dual fuel stove. Moreover, proper training of a stove is necessary before going camping. Some people only buy the packed stove online and take it for camping without assembling practice. In the ideal case, you need to test your stove before going camping every time because it's an essential item of your camping. Although many camping grounds have cooking places for the people, you must need your own one to prevent any difficulty. Try to clean all your eating utensils early after eating anything to avoid any health issues on the camping site.
How many Oskar's won by the "Titanic"? Read 90's Trivia
4. Food Items
Food is an essential item of the car camping site as compared to all the above-listed things. We are going to list all the essential food items which you needed at the campsite. Let's see some necessary items.
Recopies and ingredients to make the meal
Different types of things to get quick energy like snacks, bars, trail mix, raisins, jerky, mixed nuts, cheese crackers, yogurt pretzels, and sesame sticks. Moreover, you also take some cheese with you.
Dried food and fruit are also essential for quick energy.
Bread
Salt, peppers, oil, and all other things like that
Tea, coffee, and sugar
Hot cocoa mix
All other beverage including the milk, pop, juice, and Koolaid mix
Popcorn and campfire popper
You can also take graham crackers, marshmallows, chocolate, cinnamon, and peanut butter.
All these things are essential for your campsite stay. But these are some basic things; you can also add some other items as well according to your taste and need. The more important thing is the quantity of these items which depends upon your stay at the campsite.
Would you rather like to lose all your hair or all your teeth? Read  Funny would you rather
5. Safety Item
You need all the safety items on your camping site to make your car camping trip enjoyable. Not just for camping sites, you also need a first aid kit at your home as well. You can also buy an affordable first aid kit for your car camping trip. This is good for your one-day hike trip as well. Let see some safety items for your camping trip.
You must have first aid kit with bandages and ointments etc.
A non-toxic insect repellent.
You can also take a Citronella candle to prevent your table from bugs.
You can also tack a sunblock for a sunny day for sensitive skin.
Duct tape for any kind of quick repairs.
Moleskin.
For accidental sunburn, you can take the aloe Vera gel with you.
For the poison oak, you can take Calamine lotion.
Hydrocortisone for the skin reaction.
Water purification tablets.
There is a headlamp for each person in the camping site.
A flashlight and extra batteries as well.
A whistle for calling help.
There is a two-way radio for contacting the other peoples on the camping.
There are some essential tablets, including aspirin and Advil, Benadryl.
It would be best if you had directions to the nearest medical facility.
It would be best if you had a cell phone and power bank to charge your phone.
These are some everyday items for your safety purposes. You can also include any other item as well according to your need and habit. Whatever you choose, make sure it's not some unnecessary thing that just increases your gadget.
What you do for fun in your free time? Do you know what people do for fun?
6. Toiletries and Personal Items
You need to take some wet wipes with you to clean out all the used gadget in the camping site. Moreover, try to get your toiletries unscented. Let see some useful toiletries and personal items.
It would be best if you had washcloths and towels for swimming and bathing purposes.
Soap and shampoo.
Toothbrushes and paste.
Toilet paper.
It would be best if you had wet wipes to clean the messes on the camping site.
Hand sanitizer to clean out your hands.
Deodorant.
All the above items are necessary to enjoy your car camping trip fully. Make sure to clean out all your used clothes regularly.
7. Clothing
Try to wear comfortable clothes on your camping trip to feel maximum relaxation during the camping. You need to take all type of clothes with your depending upon the season. Usually, the night temperature is lower than the day temperature, so try to take some warm clothes for the night. Moreover, there are different types of clothes that help you in the camping site for maximum comfort. Let see some necessary clothes for the camping trip.
Fleece jacket or down vest is very helpful.
A rain gear.
Pair of hiking shoes and other boots for regular use.
Sandals for camp side use.
Polypro or wool socks. Don't wear cotton socks.
Polypro or wool long underwear.
Shorts for sunny day use.
Pants and shirts, including the thick layer shirts, t-shirts, and long sleeve shirts.
PJ'S.
A swimming suit.
A cape and gloves.
Sunglasses and a baseball hat.
All these items are necessary from the clothing point of view. You can also take any other item as well with you, but make sure to keep things simple.
8. Miscellaneous Items
Miscellaneous Items include all the items which can help you at any during your camping trip. Some items allow you to spend some good time in your shelter. Let see the different miscellaneous items which can help you in your car camping trip.
Small groom for sweeping off your table and tent.
The information about the campground reservation.
If you are camping in any state, you need the DeLorme Gazetteer for this state.
Directions of the campground where you want to travel.
Some cash and coins to use in the campground.
A guide book for hiking on different trails.
A nature guidebook.
An Emergency number for your car.
A digital camera to make your trip memorable.
Daypacks for the day hiking.
Different books and games.
Musical instrument.
Ten essentials for the daypack.
These some items which can help you on the camping site, you can also take any other item as well according to your need and habit.
9. Repairing Items
Small repairing items can be beneficial in the camping site. These can play an important role when you mistakenly broke some parts of essential camping items. Let's see some important repairing things for your camping trip.
Multi-tool
Duct tape.
An extra cord.
Mallet or hammer.
Saw or ax.
Repairing sleeves for the camp pole.
A dustpan and a small broom.
A mattress repairing kt.
You can take all the above items with you for the quick repairs on the camping site. You can also take any other item as well, according to your other camping items.
10. Optional Items
There are different other items as well, which are not directly necessary for your car camping trip, but it can be useful in some particular cases. Let see these optional items.
A camp grill and fuel.
A grill rack.
Dog roasting forks.
A food storage container to save the extra food.
Griddle.
Massive jugs for water.
A Dutch oven.
Large plastic bins to store all the kitchen items on the camping site.
Charcoal.
Portable coffee and tea maker.
Ice cream maker.
There can include many other unique items that are also available, which you can take with you according to your taste and desires. But once again, make sure to don't include the unnecessary items.
11. Car camping trip Plaining
The best way to list all the food items is to decide your stay time first at the campsite. Moreover, make a list of your food for each day and time and take the food quantity with you accordingly. Make sure to make a complete list of all the other ingredients as well accordingly. When you are on the camping site, try strictly follow this list to prevent any lack of food. There are different types of utensils packs available according to the car camping purposes; you can just buy those packs as well.
When we talk about the clean water facility, many campgrounds provide this facility to their visitors. But it's okay if you have your own pure water for drinking or a water filter to clean the water in campgrounds. If you forget to bring any that type of water facility with you, you can also boil the water at the campsite to make it cleaner. This way can consume a lot of fuel and your precision time as well. So this method of water cleaning is not recommended for the campsite.
12. Notes and Tips
Take any type of contents that can easily be stored in the baggage or container like the eye drops, contacts solution, and nasal spray, etc.
Take some gas money for carpool driver, and for any kind of emergency.
All type of the deification documents which can be useful during your trips is a driving license, I.D. card, insurance card, and I.D. bracelet, etc. Moreover, any kind of medical documents as well in case of any emergency.
When you are going hiking on any trail, make sure to mark your way from the camp. This can be helpful in case of something wrong. Try to keep an exact map of the trail with you.
Don't any kind of fruity creams and soaps with you. It can attract insects to your camp.
In case of any uncomfortable feelings, try to use the first aid kit before going to bed and take a long rest to relax your muscles.
Try to keep all the around space clean. Don't leave any kind of garbage on the trail and around your camp.
When you are camping in a group, make sure to inform at least any two people about your move.
Finally, if you are in a group, don't hesitate to share your feeling and observations with your group members.
F.A.Q.s:
Some commonly asked question about the car camping checklist
What are the essential items for car camping?
The essentials items include the Sleeping bag, tent, food, water, first aid kit, navigation tool, rain jacket, and a pocket knife.
What are the things which we don't forget whenever we plan a car camping trip?
These things include the shelter, pocket knife, first aid kit, rainproof clothes, insect repellent, chair and table, and lots of firewood. These are the essential items for your car camping trip.
Can I leave my tent during camping?
Some people leave their camp during hiking or for any other work, but it has a risk of theft when you are camping in a populated area. Try to set up your camp in any less populated place where there are no roads near.
How can we enjoy the car camping trip with minimum items?
You can enjoy the trip with the following minimum steps.
Try to camp in your car rather than a separate outside tent.
Try to camp in a unique campground.
Plan a supply list first and strictly follow.
Rent the required necessary items instead of buying them.
Take the items which have multiple tasks.
What are the best foods for a car camping trip?
The best food for camping is usually the food which is less in quantity but more in energy. You can take the following food with you.
Any dehydrated food.
Nuts and bars.
Cup noodles and cheese.
Chili.
Dried fruit.
Teabags.
All the materials that are helpful to make a sandwich.
How can I secure my tent on the camping site?
Make sure to pitch your tent to any safe place.
Try to camp next to your friend and try to inform your friend whenever you leave your tent.
Don't leave the valuable things near to the camp gate.
Try to take all the essential lightweight items with you on the trail.
What are the most joyful and useful activities for the camping trip?
Try to make shadow puppets.
You can also go for a walk at night time.
You can also play hide and seek with your members in the group.
Go for swimming.
You can also study the start in the natural environment.