Raul de Nieves is a multimedia artist in New York. He was born in 1983 in Michoacán Mexico. He lives and works in Brooklyn New York. Raul de Nieves makes spectacular objects from humble materials. He accomplishes this transformation from the process of accumulation. He integrates these spectacular objects into the space around them. The first solo museum exhibition of the Raul de Nieves is Fina. When Raul de Nieves is in school, he learned traditional Latin American sewing and beadwork which helps him to improve his artwork. During his childhood, the Raul de Nieves mainly focus on basic material production which is a part of everyday life.
Early life
Raul de Nieves born in Michoacán Mexico and grew up there. He was only two years of age when his father died. When he reaches the age of seven, his aunt shown him a school and tell him that we will move from their early. On the same day, they move towards San Diego. In the age of twenties, Raul de Nieves move towards San Francisco and then finally shifted to New York. His multimedia practices take the shape in New York including the painting and sculpture. His personal life questions are different from his professional life.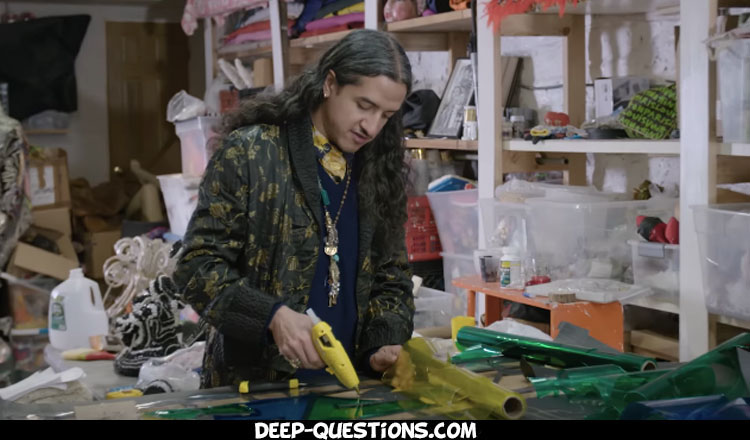 Art practices
The main obstructive of the Raul de Nieves artwork includes the notions of transformation, beauty, the human body, sexuality, and history. Raul the Nieves makes his visual mythology by using Catholic and Mexican art. The Kitchen and the watermill center New York (2017), the Institute of Contemporary art Philadelphia (2016) are the main platforms where the Raul de Nieves has presented his performances and solo projects.
He is also taking part in contemporary art surveys like Documenta 14(2018), the 2017 Whitney Biennial, and greater New York at MoMa/PS1 (2015). Swiss Institute for Contemporary art's inaugural exhibition, opens in New York in summer 2018 includes his work in the exhibition. Raul de Nieves also works with many brands like Tiffany's, Bvlgari, Swarovski, Missoni, and Hermes. He is always thinking about existential questions of life.
Raul de Nieves interview by Emilie Friedlander photographer Francesco Nazardo
Raul the Nieves has countless colorful curious, Bushwick, Brooklyn studio is the recent ongoing project of the Raul de Nieves. The main goal of this project is to get the 50 different versions of the same painting. This project is an example of Saint George and the dragon work by the Raul de Nieves. Moreover, the famous works of Raul de Nieves include the 3.5 feet tall doll which makes from hands and he says it is impossible to stand that doll with 5 beads onto his feet.
Emilie Friedlander interview include the different topics which also include philosophical questions, questions about life and his work.
1. How did you get into the beadworks?
Raul de Nieves:
During my early age in Mexico, I have seen different types of artwork on the streets. I have seen the different types of peoples on the roads that work on the roads and put all their stuff on the rods like beaded necklace etc. From all their stuff, I choose the bead because it's very cheap among all. Then I think I can make a lot of things from it. I like to produce things in larger volumes. It's not just a work; I think it's a part of me.
2. Your work is a craft as much as it is an artistic practice?
Raul de Nieves:
During my early life in Mexico, I don't know anything about art. It's not mean that they don't teach us in our culture. But in schools they usually tell us about the basic things like cooking and some other manual things like making a pair of pants, make a embroider or crochet.
But my mother is very practically about all these works. She comes from a very practical background and can make the sweaters and outfits. She encourages me more about all that and tells me that I can do this.
3.How you started to make the beaded shoes?
Raul de Nieves:
When you wear your shoes for 5 to 6 months, it's become useless. I just wanted to give these shoes a new life. When you attach with something in your life, you want to add these things in your life for the remaining life. I have a pair of shoes which I use in the parties for a long time. I just want to give them a new life. That's how I just started the beaded shoes work.
4. Your sweaters can get outrageously long? Are you inspired by the Snuggie?
Raul de Nieves:
Yes, these sweaters are long and perfect for the winter. When I wear these sweaters, I feel that I just enter in the blanket. You can wear it in many different ways. I can use the different stitches to make it but I have just let him happen. Sometimes I think that "if I don't have the artistic practices, I would be dead".
5. What is the story behind the necklaces?
Raul de Nieves:
I have just found that rosary from a church in Mexico where my aunt took me. This is for the sick peoples. Moreover, I have all that jewelry with me, which I receive from my family. My mother gives me a medallion which my grandmother wears throughout her life. I was afraid to wear that medallion through chain so I just mounted it on a rosary and make sure it's not fall off. I just want to take all that stuff very close to me which my family gives to me.
6. Is your work therapeutic for you?
All my works are like a relationship for me. You don't learn a lot of things from a human until you spend a lot of time and money on them. My paintings are like a mirror near me because sometimes the situation comes when I spend a lot of time with my paintings. I don't say that I am crazy but there are lots of things happening in my mind. Sometimes I think and dream about the more bizarre things. I can't just relax.
Here was interviewed by another show and they played the famous question based game would you rather, which you can find on the internet easily.
A tour of Raul de Nieves complicated sculptures in Miami by Thom Bettridge
Raul de Nieves's sculptures mainly focus on emotions and intuition. Whatever the Raul de Nieves is doing, we will focus on the sculptures constructed from the beads, cardboard, and jewelry. It is a one week art Basel in Miami where the Raul de Nieves creates the beaded and magical creatures inspired by the mythical figures of snake in Bvlgari's. Raul de Nieves is on display from December 5th to 10th in Faena hotel in Miami where he gives us a three-part breakdown of his sculpture on the theme "When I look into your eyes I see the sun".
1. On the snake
Bvlgari wants an artist to make a big project about the snakes which can relate somehow with the snake stories. I have just work with lot of snakes so they just come to me to give reality to these mythical ideas.  Snakes always get the bad rep but I think that the snakes are beautiful symbol of eternity.
2. On The Horses, Slash, Unicorns and Their Friends 
In carousel the snake like dragon is cut on to pieces. The carousel shows the different stages of life. When the carousel spins, generate more information. It has different type of characters, but the two main characters are human like characters. The others characters includes the horse, slash and others.
When you experience this carousel, you will create a lot of scenarios in your head about the person who is riding.
3. On the meaning of a circle
Lot of my work is about a circle and a circle doesn't have a beginning and end. It's about the journey of life where the things are bounded with each other.
That's all about him and his great work, we wish him best of luck in his life and also want him to keep up the good work. He is an inspiration to many young people. You might have 20 questions more questions in mind about him for that you can follow him on his Instagram and other social accounts.
Thank you for your time to read all this if you want to deep questions to ask someone special you can by simply reading it on our website. Happy reading!