You must be looking for deep questions to ask a girl about herself ? We know it's not easy to talk to a girl but our list of questions can definitely help you in this matter. Just remember to ask questions one after the another, you must wait for her response and try to add your words in conversation. Sometimes all you need is just a single question to know a lot about herself.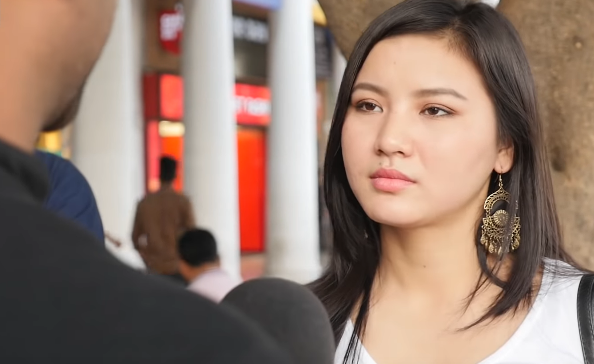 List of Deep Questions To Ask a Girl About Herself:
1. Who has the biggest influence on your life?
This question is to know about the people close to her. Knowing about people who have greater influence on her is very important.
2. What is your most amazing memory?
Ask this question to make her happy. She will love to tell you about the memory and you will know her even more. If your conversation is getting boring try these questions.
3. Are you a daddy's girl?
How much she cares about her dad? How much she love her dad? Answer to this question will open a new side of her.
4. What's the worst thing you found about being a girl?
This is again what she don't like about being a girl. What makes her bad about being a girl? This is actually very deep question.
5. If you get power to see future, what will you like to see?
It a deep question let her decide the direction for it. Enjoy listening to her thoughts.
6. What is the craziest thing that you have done with your best friend?
With this deep question to ask a girl you will know what kind of activities she enjoys. What are her best moments and more.
7. How you handle troublemakers? Anyone you know, who is always a troublemaker for you?
We face many people who create trouble for us. How a person handle them gives you a deeper view of their personality.
8. Do you love what you do as work?
Is she loyal to her work? Still following her passion? Does she enjoy working hard? all these plus related questions are summed up in above question. Her answer will give you better understanding of her.
9. Do you work just for money? Or it's your passion?
Is she compromising, is she in need of money or just working for passion. This question really help you explore her.
10. Do you watch news channels?
This question will help you to know about her interest in news. Is she aware of things going on in country?
11. So far, what is your top accomplishments?
To know about her accomplishments ask her about the top one. She will automatically tell you about others as well.
12. Do you speak any other language?
It's a deep exploration question to ask a girl. Ask this question to know her better and more deeply.
13. What is a dream career for you?
In the list of deep questions to ask a girl, this question have a strong meaning in it. She will tell you and explain you about what a dream career looks like. Prepare yourself for well, try reading these questions as well.
14. What ultimately you wanted to achieve in life?
What are her ultimate life goals? This questions is must to ask question. This question will tell you about many different targets she wanted to achieve in life.
15. If you get power to go back in past, what would you like to change?
To know about her past mistakes, what she did badly in past? Ask this question. She will definitely tell you about this.
16. Do you like book reading?
To know about her interest in reading directly ask this question.
17. Do you know someone who really loves to read books?
This question will tell you more about her friends. Also her thoughts on people who read books.
18. Have you ever cried in front of someone else? Who was that person?
Who she emotionally trust. To know about that person you must ask this question to her.
19. Do you want to get famous? If so, for what?
What is her true passion? Sometimes we wanted to achieve something but we can't e.g. being a movie star. To know what is her inner deep passion ask this deep question to her.
20. In which city you were born?
It's a very simple question to know about her birth place but it can be used for many purposes to make her happy in future.
So, these were all deep questions to ask a girl about herself, we hope you enjoyed our list. You can read more questions on our website. Use search box or go to our homepage for more articles.
Thank you